TO ENTER THE Miss USA pageant, contestants must be at least 18 years old and under the age of 28 in the year they compete. Miss USA 2022 winner R'Bonney Gabriel cut it short!
---
Gabriel grew up in Missouri City and graduated from Lawrence E. Elkins High School in 2012. She started competing at age 26. Two years later, at age 28, she won the Miss Texas title and captured international attention as the first Filipino-American to win the Miss USA crown.
"It's a very big honor," says Gabriel. "I'm so happy to be in this position and represent Filipino Americans and Asian Americans. Because as a kid, I didn't really see a lot of women in the pageantry or in pop culture that looked like me.
With October being Filipino American History Month, Gabriel says it's important to put diversity first. "It's amazing because I get messages from daughters and mothers telling me they're so inspired by me, and I'm so happy to be setting an example for Asian Americans to help them feel inspired. and believe in themselves." Gabriel will continue to represent the United States at the Miss Universe pageant in January.
Model Neal Hamil and sustainable fashion designer graduated with a bachelor's degree in fashion design from the University of North Texas in 2018. For the past two years, she has been the senior sewing instructor at Magpies and peacocksthe nation's only non-profit design house focused on sustainable practices such as recycling and using found objects, fabrics and textiles to create new collections.
"We work with women who have survived human and domestic trafficking to provide them with the tools to learn sewing," says Gabriel. CityBook. "This too [offers] a sense of community and a path to success.
Known for wearing her own designs to pageants, Gabriel enjoys raising awareness of sustainability. For the costume portion of the competition, she wore a Texas Bluebonnet costume, which earned her major points. "It lit up," she said enthusiastically. "It was so much fun to wear [that] on the track and represent my home country.
We caught up with Miss USA, who was visiting Los Angeles at the time, and asked her about her favorite fall traditions and memories.
What accomplishment are you most proud of? Winning Miss USA is a dream come true. I never thought I would be in this position. As a little girl I was very shy and had poor communication skills, but through a lot of training, openness and self-work, I am truly honored to be in this position.
When you were a child, what did you want to be when you grew up? In kindergarten, I remember writing on a piece of paper that I wanted to be a teacher. Growing up, I sort of went down the fashion designer route. It's come full circle because I'm a sewing teacher, so it's the best of both worlds!
What was your best – or worst – Halloween costume? Oh my God. Oh, my best: I should say my penguin costume. I made it myself. And I put little buttons as a nose. The worst was when I was a pirate for about three years in a row because Halloween was coming up and I had nothing to wear. So I reused it three times.
Your favorite Thanksgiving tradition? Sweet potato yams with toasted marshmallows on top, and sat at the kid's table with all my cousins ​​while the adults sat at the adult's table.
Pumpkin Spice Lattes: What do you really think? I am here for this. I love the flavor of pumpkin, I love pumpkin spice lattes and pumpkin pie. I just had a pumpkin spice smoothie this morning!
Name three things on your to-do list. The first is what I'm really focusing on right now, which is competing at Miss Universe. I can't believe I'm saying this, it's a dream come true. Two, I dream of having a design studio in a tree house overlooking the beach. And then three, I would say design and make a really amazing dress to wear and attend the Met Gala.
What is your most useless talent? Girl, I can juggle. I can juggle three balls and three oranges. I can juggle four balls and four lemons.
If you were arrested without explanation, what would your friends and family think you did? That would definitely be me speeding and cutting someone, because you know I'm from Houston and we drive a little crazy.
What would you choose for your last meal? I would definitely make it a feast and eat until I was completely full. I would have salmon sinigang, it's a Filipino soup. I will have Hello Hello, a Filipino dessert. And a really good pineapple pizza on it. Oh what else? Ube ice cream is another Filipino ice cream that is so delicious. And cookie dough and unbaked cake dough.
What's the closest thing to real magic in life? You know, I have to say that when I work with the women of Magpies and peacocks, and seeing them learn a new sewing skill and how it builds confidence in themselves, and they realize they have a new path in life. They have a new skill they can learn and they can go out into the world with newfound confidence. For me, it's magic. To be able to use my passion to help these women.
What is the worst movie you like? I must say princess diaries. I watched it probably 20 times. I think there are a lot of people who don't want to see him with me anymore.
Walk the stage at the Miss USA Pageant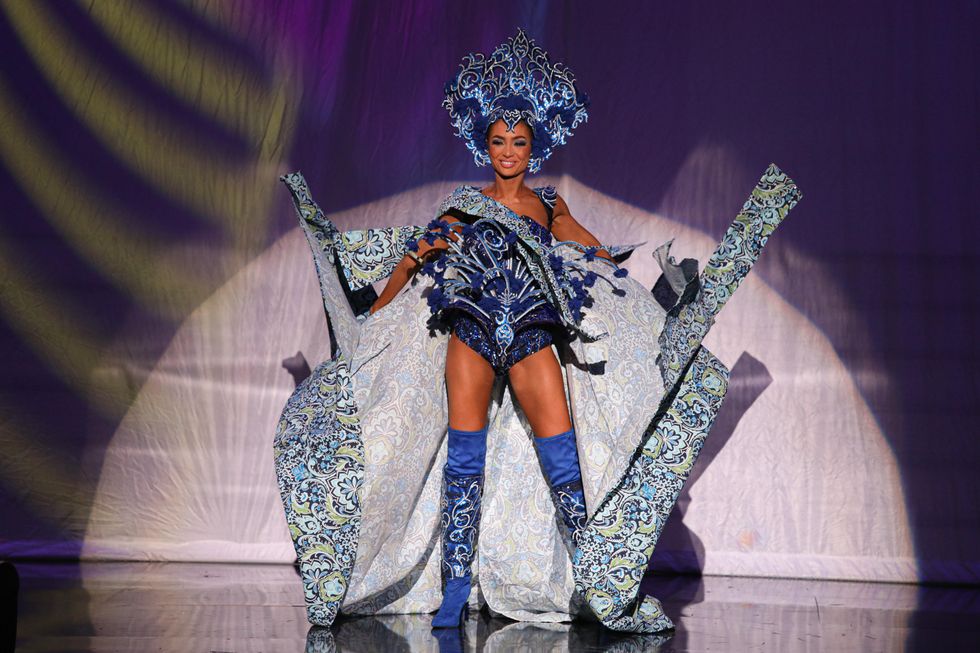 A colorful moment at the competition
R'Bonney Nola on Instagram: "In the studio with one of my latest designs. I was immediately inspired by the vibrant color when I saw it. After spending hours in a dress design, this is such a rewarding feeling to be able to accomplish my vision and have it photographed ✨🧡 📸: @selectstudios #stayinspired #handmadedress #fashiondesigner #sewingcouture"
R'Bonney Nola on Instagram: "This summer is special. Lots of love to everyone who supported this trip 🧡 7 weeks until Miss USA! #roadtomissusa"
R'Bonney Gabriel on Instagram: "I met the sweetest little princess at the dress shop 👑 She drew a sketch of me as she watched me try on dresses so I thought that was the perfect opportunity for her to wear the crown. One of the joys of Miss Texas USA is being able to share my blessings and make someone smile ✨🙂"
Victoria Alejandra on Instagram: "An hour before the show! Can't wait to crown our next Miss Texas USA 👑… #MissTexasUSA #MissTexasUSA2021 #SelectStudios #MistyRockwell #JourHair #MissUSA #PageantryReimagined"
Is there a charitable cause that you support, and why this one? We can talk about magpies and peacocks because, you know, they're all about sustainability. And I'm a designer who always recycles my pieces. And the Miss USA organization is partnering with smile trainwhich is an organization [that provides corrective surgery for children with cleft lips]and Best friends.
What would surprise you about yourself? I think people would find it surprising that I'm quite clumsy. People see me as a model, and I can get on stage and take my turns and be serious in photo shoots, but I'm super clumsy and drop a lot of things. Sometimes I drink water and bring the cup to my mouth and I miss my mouth. I'm not as tied up as people think.
In five words or less, what is your advice for living a happy life? I would say my favorite saying which is "If not now, then when?" I got it [saying] that I put on T-shirts that I sell on my website. And to me, that means when you have something you want to do, whether it's going out to eat at your favorite restaurant or taking a vacation or applying for a new job, now is the time to do it instead of waiting.
From articles on your site
Related articles on the web